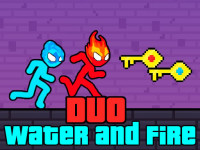 Embark on a challenging and adventurous adventure in Duo Water and Fire. The game is an interesting story between the two elements, water and fire. The two seem to be opposites, but they both have an extremely strong hidden power. If they combine these two powers, they will win everything. Start this fascinating journey!
How To Play
You must conquer every challenge like Fire and Water. One brother has the power of fire, and the other has the power of water. You two are rival brothers. assemble the blue and red keys. When you have all the gold and the keys, you can proceed to the door. It's like a puzzle sometimes, so proceed with caution. Your intellect may be tested by it. It is possible to create a wide variety of strategies and tactics in the game by combining the potent elements of fire and water. Though it is frequently seen as antagonistic, this combination can be used to generate a strong force that can aid in overcoming any obstacle.
Controls
Move to WASD + Arrow Keys
It is possible for the red player to move through red water and the blue player to move through blue water. Green water cannot be crossed by either player.
If you like this game with the two elements, water and fire, let's explore another journey with them in Fireboy and Watergirl 5: Elements. Have fun!