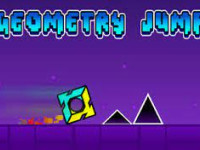 In Geometry Jump, the player must move quickly through a series of mazes of increasing difficulty. Avoid spikes, obstacles, and other hazards as you navigate the geometry of the levels. Prove your skills!
How to play
In this exciting super reflex game, your goal is to navigate the geometry through a series of obstacles and dangers that appear along the way. By jumping over any potential danger. Your cube will crash instantly on impact. And of course, you will lose and have to start over. Let's start the game from the first level. However, the further you go, the faster the movement speed and the more difficult it becomes. Take adventurous flights and practise your reflexes!
Control
Tap or click to jump. Avoid touching the floor or ceiling.