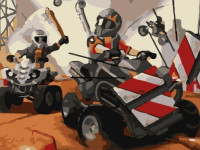 To win the race in Rude Races, get your attitude on! You have to cross the finish line first in each race, competing against other computer-controlled racers, and it's best if you can remove the other competitors. If you don't want to deplete your health bar, be sure to avoid everything that could possibly be an impediment.
How To Play
Instead of relying on your speed in this game, you'll need to use your other skills to win the races. The game's automobiles all automatically accelerate. To tilt the car and avoid running into obstacles, you only need to use the left and right arrow keys or click on the screen. In order to swing a bat and strike your opponents, press the space key. It's important to promptly acquire any advantages you see, such as extra life or speed. Before the stages start, there are several objectives you must accomplish, such as taking out at least one opponent or crossing the finish line first. You can advance through the levels by finishing these tasks. Give everything you've got to the fight in order to win!
Features
Colorful 2D graphics
New cars with a variety of skill sets to unlock
Numerous levels spread throughout a large city map
Specific objectives for each level
A shop where you can purchase extra lives, extra speed and respawn bonuses.
If you enjoyed playing this uncivilized racing game with its distinctive rules, you should also check out Speed Motocross Racing to play another engaging game.