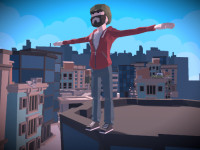 Fun jumpers with real physics await you in Backflip Maniac. Jump back to start the flip, then land on your feet in the center of the smallest square on the landing platform as the dummy you're controlling stands on a truck or a roof.
How To Play
In this game, Jumping is an integral part of the gameplay. In the beginning levels, you'll be starting your jumps from lower platforms. Forward and backward jumping is possible if you're confident in your abilities, but it could be trickier. But later on, when the structures grow even taller, pinpoint accuracy will be even more of a challenge. Don't give up until you've cleared every level and unlocked the game's hardest challenges! Hitting the red square precisely is crucial for progressing to the next level. Let the fun of Backflip Maniac begin!
Controls
Touchscreen/Mouse Controls
If you like this game and want to practice many other interesting skills, you can try it Balance It. Enjoy!