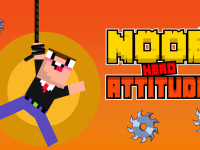 Noob Hero Attitude, slide from buildings to rescue helpless noobs; many players' characters were pinned between structures and dangling by a thin rope. To earn money for new outfits and enhancements, you must jump from building to building. See if you can save as many newbies as possible.
How To Play
Be prepared to cut ropes, collect cash, and dodge death by sharp traps as you prepare to launch yourself along the facades of the buildings. Get where you're going quickly, and use the money you save by doing so to invest in time-slowing tools like shields, magnets, and power-ups. Best of luck!
If you like this game and want more challenges, you can try it Parkour World, Balanced Running. Have fun!