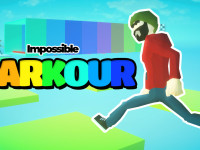 Prepare to sprint and jump in Impossible Parkour, a 3D parkour game with 25 seemingly impossible levels. How many of them have you beaten?
How To Play
You have to avoid falling from the skies as you make your way from platform to platform in this game. In order to reach the exit of each level, you must look out for the shifting green background and avoid falling off the red platforms. Our goal is for you to complete as many of the levels as possible on our parkour course and claim your rightful place as king. If that's the case, you should explore other of our games.
Controls
You can move with the WASD keys and the space bar or mouse.