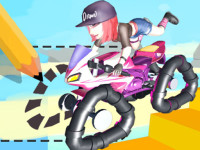 Play Draw Rider and see how fast you can draw! To get your automobile through each level, you'll need to draw wheels and other objects to help it. Each time you play, draw a fresh set of wheels; different levels require different styles. You should strive to complete each level as rapidly as you can. Enjoy!
How To Play
The object of this entertaining game is to draw the wheel and then race the car selected at random from BPTop. To ensure your success in each race, draw the best wheel you can. Gain experience and coins to upgrade your vehicle and take on the world.
Controls
Use your mouse or finger to draw or play.