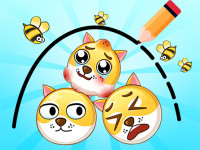 Protect the dog from evil bees in Draw 2 Save Doge. Our cute dog is suddenly attacked by a beehive. Draw a line around the dog, preventing the bees from getting through. How many levels can you complete?
How To Play
In this fun game, our cute yellow dog is playing when he is attacked by a nest of yellow bees. Help keep your dog safe by drawing a line around him. Make sure there are no gaps, and be secure. Avoid letting any evil bees sneak in and harm your dog. There are many different levels and environments that make playing a game more difficult. Be sure of your drawing line when attacked by a bee and make it move. Have fun!
Similar games: Hole Fire. Enjoy!